It's Celebrate Literacy Week, Florida!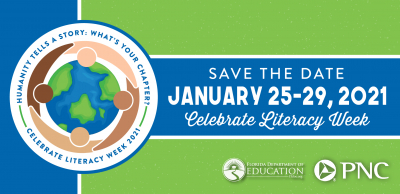 Published on: Jan 24, 2021
This week (January 25-29, 2021) is Celebrate Literacy Week, Florida! Sponsored by the Florida Department of Education (FDOE) in partnership with the Office of Early Learning, school districts, early learning coalitions and numerous other state agencies, the week is set aside as a time to reflect on the importance of literacy in a child's development.
Reading activities are scheduled throughout the week, including a simultaneous reading on Wednesday, January 27, at 9 a.m. ET. Families, child care providers and educators are encouraged to use that time to read a book to the children in their care. The following are suggested books by age group:
Ten Tiny Toes by Caroline Jayne Church (birth to 3-year-olds).
What I Like About Me! by Allia Zobel-Nolan (3 to 5-year-olds)
A child's journey to literacy – and successful learning – begins at birth, literally with the first kiss and hello. Parents-to-be, it is highly recommended that you take a book to the hospital for your child's birth, and read it to your newborn. When you hold your newborn and talk with them, you are introducing your child to spoken language. They learn that sounds or words represent objects. When you refer to yourself as Mommy or Daddy, your child begins to learn that specific words represent a specific person or object.
The more you talk and sing to your newborn, the sooner they will learn words. Read to your child as often as possible – read a book to your child daily throughout their childhood. Read signs, menus, labels and other printed items to your child and explain what the words mean. When riding in a car or bus, point out traffic signs or advertisements they may see as you travel.
According to Dr. Seuss, who inspired so many children to love reading:
The more that you read, the more things you will know.
The more that you learn, the more places you will go.