DBS Rehabilitation Center for the Blind Client Recognized with the Commissioner's Leadership Award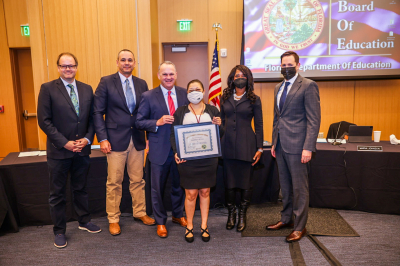 Published on: Jan 13, 2021
Shamara McCall, a former Division of Blind Services (DBS) Rehabilitation Center client who now works at the Center helping others the way she was helped, was recognized at the Florida State Board of Education meeting this morning.
When Shamara moved to Florida from Virginia in 2013, and was diagnosed with Diabetic Retinopathy as a young adult, which resulted in a profound visional impairment. Additionally, Shamara needed dialysis due to inadequate kidney functioning.
One day, Shamara's mother was watching television and saw a commercial for Light House of Pinellas. Shamara called the number and was referred to DBS to become a client. When Shamara made that call, she didn't know what DBS had to offer. She soon learned that DBS had a great deal to offer her- and it would be life changing.
Even after Shamara had a kidney and pancreas transplant in 2013, she still felt depressed at times and experienced a feeling of "never gonna" (e.g. never going to get back to work; never going to live independently again).
Then Shamara heard about the DBS Rehabilitation Center for the Blind in Daytona Beach and she asked her DBS counselor, Margaret Hancock, to refer her for training.
Shamara went through the Independent Living Skills program at the Rehab Center in the spring of 2016. In October 2016, Shamara completed the Pre-Employment Program at Center to further develop the skills that would prepare her to return to employment.
In May 2017, Shamara started a position as Word Processing Systems Operator at the Rehab Center and she has been successfully employed in this role ever since. However, Shamara does not want to stop there. She completed an Associate of Arts degree at Daytona State College and is currently working on her bachelor's degree.
Shamara takes advantage of every opportunity to cross-train, to learn and to grow professionally. She is interested in furthering her education so that she can pursue further career opportunities as a Vision Rehabilitation professional. Shamara reports that she is in a positive place again and loves working at the DBS Rehabilitation Center for the Blind because it gives her an opportunity to give back to others who are experiencing vision loss.
Shamara's story is so inspiring and shows what can be accomplished with the appropriate supports and training.
Congratulations, Shamara on being honored today.