Commissioner Diaz and Secretary Davis Team Up to Inform Students About Bright Futures Scholarships
September 22, 2023
FDOE Press Office
850-245-0413
DOEPressOffice@fldoe.org
Commissioner Diaz and Secretary Davis Team Up to Inform Students About Bright Futures Scholarships
Tallahassee, Fla., September 22, 2023 – Yesterday, Florida Commissioner of Education Manny Diaz, Jr. and Secretary John Davis of the Florida Lottery visited Gadsden County High School to encourage students to take advantage of the Florida Bright Futures Program. Grade 9 students were provided information about eligibility requirements for Bright Futures so they can begin planning, and grade 12 students were encouraged to apply for the program as soon as the application window opens on October 1. Over the past five years, approximately 50,000 eligible students did not apply to receive Bright Futures. Commissioner Diaz and Secretary Davis are committed to changing that statistic.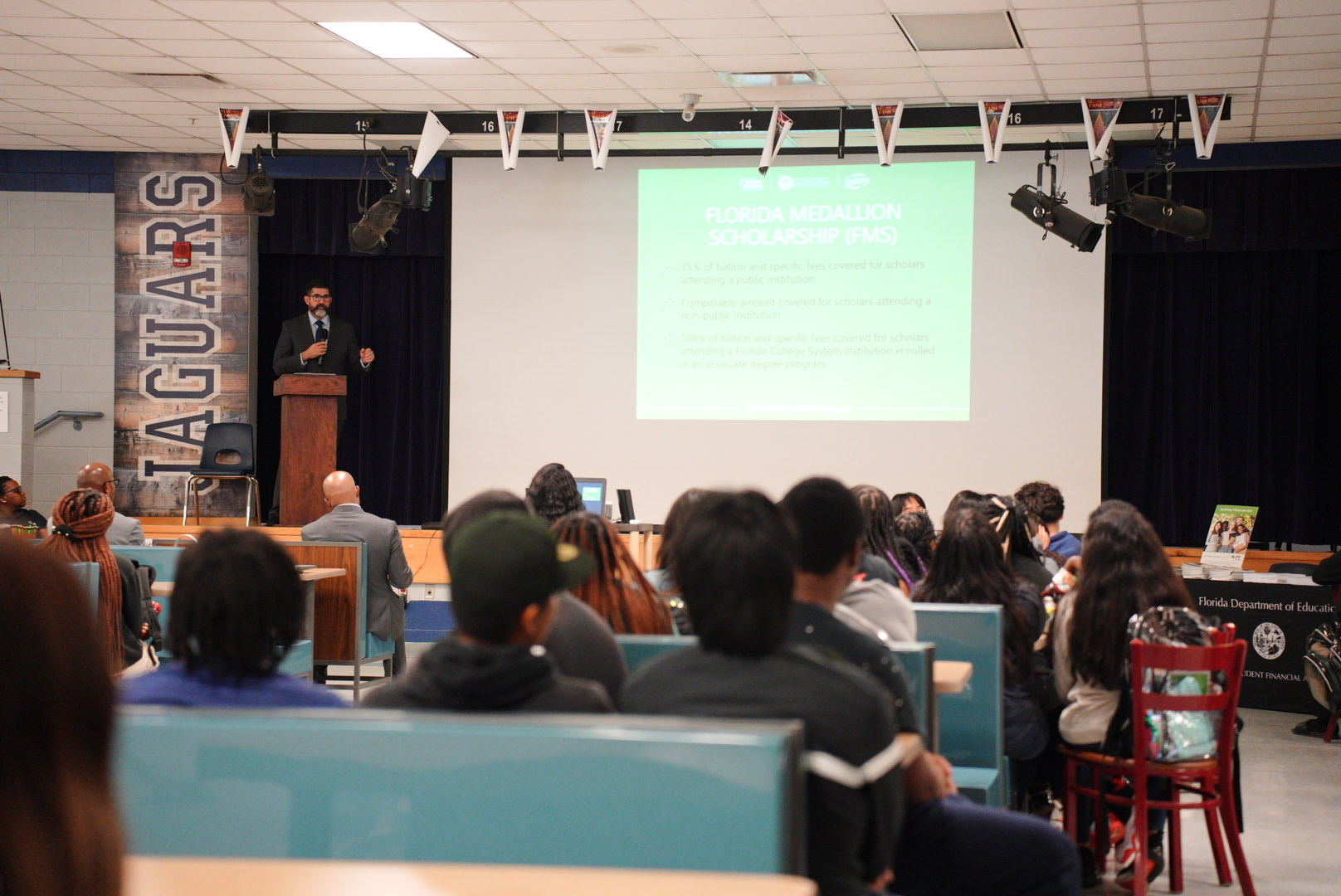 "Bright Futures opens doors for postsecondary education, making it affordable and attainable for students," said Education Commissioner Manny Diaz, Jr. "I am proud of our state's investment in hard working students through the Bright Futures Scholarship Program, and we remain committed to supporting students as they pursue post-graduation goals."
"Education is the cornerstone of opportunity, and at the Florida Lottery, we are proud to play a pivotal role in shaping the futures of Florida's youth," said Florida Lottery Secretary John F. Davis. "Together, with the Florida Department of Education, we're committed to ensuring that every student knows that a brighter future is possible, where every dream can become a reality. This unwavering commitment to enhancing education will illuminate the path towards success so that today's brightest talents can become tomorrow's valiant leaders."
"I want to thank the Commissioner and Secretary for providing Gadsden students with information to obtain financial support for their educational ambitions," said Gadsden County Superintendent Elijah Key. "Florida Bright Futures has been instrumental in providing countless students in our community scholarships to assist in their post-secondary education."
Established in 1997 and funded by the Florida Lottery, Bright Futures recognizes and rewards Florida high school students for their exceptional academic achievements. Bright Futures has generously awarded over $8.7 billion to more than 980,000 scholars to support their postsecondary education. The Florida Bright Futures Program offers four scholarships, which range from providing 100% of tuition and specified fees, to funding technical degree programs. The four scholarships are the Florida Academic Scholars, Florida Medallion Scholars, Florida Gold Seal CAPE Scholars and the Florida Gold Seal Vocational Scholars. The Florida financial aid application for students seeking state aid during the 2024-25 academic year opens on October 1, 2023, and current seniors have until August 31, 2024, to apply.
To learn more, please visit the Florida Bright Futures page.
Read More News...