2011 Miami Dade County Public Schools Mathematics and Reading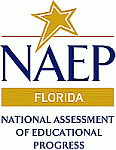 NAEP 2011 TUDA Results for Miami-Dade County Public Schools
December 7, 2011
If you have any problems accessing the next two files linked below, please contact the National Center for Education Statistics (NCES).
Grade 4 Mathematics and Reading
Grade 8 Mathematics and Reading
TUDA Information
Contact
The NAEP contact for the state of Florida is Michele Sonnenfeld. She can be contacted by email at or by telephone at 850-245-0513.