2016 School Resources
---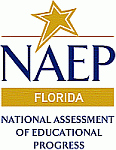 Resources for Participating Schools
Main NAEP 2016 - Grades 4, 8, and 12
The 2016 NAEP administration will be January 25 - March 4, 2016. If you have any problems accessing the files below, please contact the National Center for Education Statistics (NCES).
Many of the below listed documents will also be available on MyNAEP in the fall.
Guidelines for Participation in NAEP
A sample of schools is randomly selected from the Common Core of Data (CCD), a national database of schools.
Not all the districts in the state, nor all schools in a district, nor all the students in the grade being assessed, are selected to participate in the assessment.
Proportion of all students excluded from any NAEP sample should not exceed 5%.
At least 85% of students classified as either students with disabilities or English language learners must be included in the assessment.
Unless 90% of the sampled students participate, a make-up session will be scheduled.
Parents must be notified before the administration of the assessment. Refusals must be in writing.
Scoring and reporting usually take approximately six months for

Mathematics and

Reading, 12 months for Science and Writing, and 18 months for special studies.
General Resources
Contact
The NAEP contact for the state of Florida is Michele Sonnenfeld. She can be contacted by email at Michele.Sonnenfeld@fldoe.org or by telephone at 850-245-0513.