2016 School Resources
---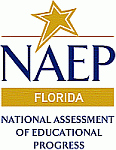 Resources for Participating Districts and Schools
Main NAEP 2016 - Grades 4 and 8
The 2016 NAEP administration occurs from January 25 to March 4, 2016. If you have any problems accessing the files below, please contact the National Center for Education Statistics (NCES).
Many of the below listed documents are also available on MyNAEP.
School Resources
School Principal Documents and Publications
School NAEP Coordinator Documents and Publications
Accommodation and Inclusion Documents
Parent/Guardian Notification Letters
District Resources
District Assessment Coordinator Documents
General Resources
Guidelines for Participation in NAEP
Contact
The NAEP contact for the state of Florida is Michele Sonnenfeld. She may be contacted at Michele.Sonnenfeld@fldoe.org or 850-245-0513.