Sample Questions and Answers
---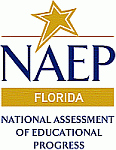 NAEP Sample Questions and Answers
NAEP Questions Tool provides easy access to released NAEP items, sample student responses, performance data, and scoring guides that are released to the public.
NAEP Sample Questions Booklets contain a description of each assessment, assessment directions, background questions, sample questions, and information about the NAEP Questions Tool.
Flolrida NAEP Sample Tests, Answers, and Corresponding Common Core State Standards (Mathematics and Reading) and Next Generation Sunshine State Standards (Science)
Grade 4 Reading
Grade 4 Mathematics and Science
Grades 8 and 12 Reading
Grade 8 Mathematics
Grade 8 Science
Grade 8
Grade 12 Mathematics
Grade 12 Science
Contact
The NAEP contact for the state of Florida is Michele Sonnenfeld. She can be contacted by email at or by telephone at 850-245-0513.