National Assessment of Educational Progress (NAEP)
---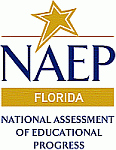 The National Assessment of Educational Progress (NAEP)
The National Assessment of Educational Progress (NAEP), also known as The Nation's Report Card, is the largest nationally representative and continuing assessment of what our nation's students know and can do in core subjects, such as civics, geography, mathematics, reading, U.S. history, and writing.
About NAEP
NAEP Assessments
There are two types of NAEP assessments, main NAEP and long-term trend NAEP.

Main NAEP is administered to fourth-, eighth-, and twelfth-graders across the country in a variety of subjects. National results are available for all assessments and subjects. Results are available for states and select urban districts in some subjects for grades 4 and 8. The Trial Urban District Assessment (TUDA) is a special project developed to determine the feasibility of reporting district-level NAEP results for large urban districts, including Duval, Hillsborough, and Miami-Dade counties in Florida.
Long-term trend NAEP is administered to 9-, 13-, and 17-year-olds every four years nationally. Long-term trend assessments measure student performance in mathematics and reading, and allow the performance of today's students to be compared with students since the early 1970s.

See a comparison of the assessments in the NAEP program (PDF) for more information about main NAEP and long-term trend NAEP.
In addition to main and long-term trend assessments, there are a number of NAEP special studies that are conducted periodically. These include research and development efforts such as the High School Transcript Study and the National Indian Education Study. For more information on NAEP special studies, visit http://nces.ed.gov/nationsreportcard/studies.
NAEP Administration
2017 Assessments
Main NAEP: January 30 – March 10, 2017
NAEP will be administered on tablets with keyboards to a sample of fourth- and eighth-grade students between January 30 and March 10, 2017. Students will be assessed in mathematics, reading, writing, civics, geography, or U.S. history. A small number of students may take paper-and-pencil assessments in mathematics or reading.
Writing Comparability Study: April 24 – May 19, 2017
An additional writing comparability study will be administered on laptops to a sample of eighth-grade students between April 24 and May 19, 2017.
NAEP Results
NAEP results are released for a variety of subjects as The Nation's Report Card and are available for the nation, and in some cases, states and urban districts. There are no results for individual students, classrooms, or schools.
View the latest NAEP results.
Contact
Tamika Brinson
NAEP State Coordinator
Florida Department of Education
Email: Tamika.Brinson@fldoe.org
Phone: 850-245-0787