2013
---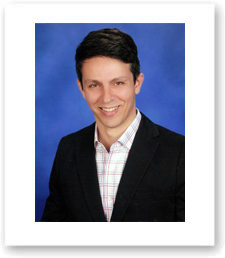 Alexandre Lopes
Pre-Kindergarten
Carol City Elementary School
Miami-Dade County
Alex has achieved spectacular results with his special needs students. "I am committed to inspire my students to become successful and productive global citizens," said Alex. His holistic approach to teaching transforms his students into socially, emotionally, and academically strong individuals.
Alex uses music, dance, technology, and gentle guidance to provide his students with the phonological skills necessary for them to become the readers of the books that will turn their dreams into reality. Through play and the use of toys, Alex encourages his students to use numbers and the quantities they represent, to comprehend and expand patterns, and to begin on their journey to become the scientists who will create the rockets that will take them to the moon and beyond. Using chalk, crayons, markers, and paintbrushes, Alex guides his students into developing the fine-motor skills that will allow them to become the writers of our future. And through sharing, listening, and practicing social skills and relaxation techniques, Alex develops in his students the necessary resilience that will transform them into the fair and strong leaders of tomorrow.
Alex teaches students with autism who are expected to participate and make progress in the Learning Experiences - An Alternative Program for Preschoolers and Parents (LEAP). "My goal is to create a structured environment conducive to independent experimentation in order to ensure the consistent and systematic learning of all of my students." To achieve that goal, Alex makes ample use of voice output communication devices, communication boards, reachable and labeled materials, picture schedules, task analysis, smart technology, and the Internet.
As a National Board Certified Teacher, Alex was invited to join Project Rewards and Incentives for School Educators (RISE). As a RISE teacher-leader, Alex furthered his leadership skills by conducting professional development workshops and by presenting at national conferences, where he shared research-based practices and best practices with other educators.
Born and raised in Brazil, Alex is fluent in Portuguese and Spanish. Because he, himself, is an English language learner, he is fully aware of the challenges faced by his students from diverse backgrounds. Having obtained a master's degree in Early Childhood Intervention from the University of Miami, Alex is currently seeking a doctoral degree in Special Education at Florida International University. "My passion for education is only equaled by my love for learning."
Alex is available for speaking engagements and conducting workshops in any of the following topics:
Early Childhood Education/Intervention
Educating Young Students with Autism, Developmental Delays, and/or Language Impairments
Educating English Language Learners
Inclusion
Assistive Technology
Phonological Awareness, Phonics, and Pre-Literacy Skills in General
Issues in Special Education
Issues in Urban Education
National Board Certification
Parental Involvement
To inquire about Alex's availability, please contact Bonita Hampton at .