Current Results, Achievement Levels, & Scoring Metrics
---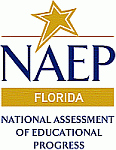 Results
Overview
The National Center for Education Statistics (NCES) publishes numerous types of reports (PDF) summarizing national, state, and TUDA NAEP results. NAEP serves as an assessment of overall national, state, and TUDA achievement, not as a diagnostic test for individual students. Results from NAEP are publicly available through NCES using the NAEP Data Explorer (NDE), as explained below.
The No Child Left Behind (NCLB) Act mandates NAEP mathematics and reading results be reported within six months and TUDA results reported within seven months of the last day of the assessment period.
If a new framework is adopted, NCES has 12 months to report the results. Assessment results in subjects other than mathematics and reading are usually available within 12 months of the assessment.
The NAEP Long-Term Trend (LTT) Assessment and special studies assessment results are usually produced within 18 months of their administration.
The Florida State Profile presents key performance data over time in mathematics, reading, writing, and science for grades 4, 8, and 12. Florida's demographic data, snapshot reports, and a comparison to the nation and the other jurisdictions are also provided.
Below are the links to Florida NAEP assessment result reports, available as PDFs to the public. All NAEP data was compiled and tested through the NAEP Data Explorer (NDE).
2015 Florida NAEP Score and Achievement Level Reports
The 2015 NAEP Mathematics and Reading result pages each include several different reports by grade level and subject with focuses on different types of score analysis, including long term trend and gap assessments.
Because of their large student populations, California, Florida, Illinois, New York, and Texas are referred to as the Mega-States. The Mega-State Report compares Florida's NAEP 2015 scores and achievement levels to the other Mega-States (California, Texas, New York, and Illinois), Pennsylvania, Ohio and the Nation, with special focus on Race/Ethnicity, Students with Disabilities (SD), English Language Learners (ELL), and students eligible for the National School Lunch Program (NSLP).
The Top Seven Performing State report compiles and compares scores and achievement level percentages from Florida, the Nation, and seven of the top performing states: Massachusetts, New Hampshire, New Jersey, Indiana, Minnesota, Virginia, and Vermont.
Archived Florida NAEP Score and Achievement Level Reports
Additional NAEP Reports for years before the 2013 data release are available in the NAEP Archive.
NAEP Data Explorer (NDE)
The NDE is an interactive tool that can be used by the public to analyze results and to create statistical tables, charts, and maps. The NDE can also be used to explore assessment results by subject area over time for various subjects, grades, and jurisdictions. Data from contextual factors related to learning that are covered in the student questionnaires are also available via the NDE.
NAEP Data Explorer Introductory Video
NAEP Achievement Levels and Scoring Metrics
NAEP provides results on subject-matter achievement, instructional experiences, and school environment. Additionally, reports are released examining how NAEP results have changed over time using scale scores and achievement levels (Basic, Proficient, and Advanced).
NAEP scores are based on results of representative samples of schools and students, and each student takes only a portion of the assessment. Results are then assembled to form projected national, state, and TUDA results. Federal law requires that NAEP data on individual students and schools remain confidential.
Results are reported by student groups, with a primary focus on these key demographics:
Gender
Race
Ethnicity
Eligibility for National School Lunch Program (NSLP)
English Language Learners (ELL)
Participation in exceptional student education programs (SD)
Populations of students, e.g. Grade 4 students
Subject-matter achievement is reported in two ways—average scale scores and the percentages of students performing at achievement levels based on scale scores.
Differences between scores or between percentages are discussed only when they are significant from a statistical perspective. Some seemingly large differences may not be statistically significant.
Score scales are 0 to 500 for mathematics and reading and 0 to 300 for science and writing. Scale scores are reported as averages and as percentiles (10th, 25th, 50th, 75th, and 90th). Because NAEP scale scores are reported as group averages, they may obscure progress or problems related to school performance across a distribution of scores.
Because NAEP scales and achievement levels are developed independently for each subject, student performance cannot be compared across subjects. However, these reporting metrics facilitate performance comparisons within a subject from year to year and from one group of students to another in the same grade.
There are three achievement levels:
Basic—Partial mastery of prerequisite knowledge and skills that are fundamental for proficient work at a given grade; States often define Basic as adequate for promotion. NAEP defines Basic as less than mastery of but more than minimal competency in a subject.
Proficient—Solid academic performance and competence over challenging subject-matter knowledge, application of such knowledge to real-world situations, and analytical skills appropriate to the subject matter. Whereas states often define "proficiency" as solid grade-level performance, NAEP's policy definition of its "Proficient" achievement level is "competency over challenging subject matter" and is implicitly intended to indicate higher than grade-level performance.
Advanced—Superior performance.
Students whose scores fall below the cut score for Basic are considered "below Basic". NAGB believes that all students should reach the Proficient level.
Florida NAEP results are collected in reports that focus on average scale scores and the percentages of students performing at or above Basic and Proficient.
Authorized by NAEP legislation and adopted by the National Assessment Governing Board (NAGB), the three achievement levels are determined by cut points based on the collective judgments of experts about what students should know and be able to do. Results show how different groups are performing in relation to each other and over time.
Beginning in 2003, NAEP reading and mathematics state assessment scores for the 4th and 8th grades began providing an alternative measure of state educational progress as required by the No Child Left Behind Act (NCLB) of 2001.
Results from NAEP and the Florida Standards Assessments (FSA) and End-of-Course (EOC) assessments will differ for the following reasons:
Purpose
Testing context
Content assessed and item characteristics
Score scale
Proficiency-level standards
Motivation level of the students (FSA and EOC assessments are high-stakes tests while NAEP is not.)
Population assessed (FSA assess all students and EOC assessments are for those students enrolled in a particular subject. NAEP assesses only a sample of the student population.)
Contact
The NAEP contact for the state of Florida is Michele Sonnenfeld. She can be contacted at Michele.Sonnenfeld@fldoe.org or 850-245-0513.