National, State & TUDA NAEP Overview
---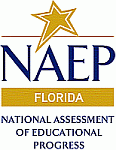 NAEP Overview
Long considered the gold standard in assessment development, the National Assessment of Educational Progress (NAEP) is the only ongoing national assessment that measures what students in grade 4, 8, and 12 know and can do in several content areas. NAEP is a congressionally-mandated assessment and serves as an integral part of our nation's evaluation of the condition and progress of education. NAEP assessments are administered uniformly using the same set of test booklets across the nation. NAEP is conducted in 52 jurisdictions: 50 states, the Department of Defense (DOD) Activity schools, and the District of Columbia Public Schools. Scores are reported for the nation and each of the 52 states/jurisdictions. Results are also available for 21 selected urban districts. The names of the students remain confidential and results for individual students and schools are not reported. For a full history of NAEP, please access the Chronology page.
NAEP is governed by the National Assessment Governing Board (NAGB) and is conducted by the National Center for Education Statistics (NCES) which is part of the U.S. Department of Education. NAEP provides results about subject-matter achievement, instructional experiences, and school environment, and reports these results for populations of students (e.g., fourth-graders) and subgroups of those populations (e.g., male students, Hispanic students). NAEP Background Questionnaires for students, teachers, and schools are designed to collect information that serves to fulfill reporting requirements of federal legislation and to provide a context for reporting student performance. The administration of NAEP is made possible through a collaborative effort between the federal government, state government, individual school districts, and schools. Each state has a designated NAEP state coordinator (NSC) who assists the federal government in the identification of schools and facilitates communication between the federal government and the schools.
Main National NAEP is administered in even-numbered years and is comprised of subjects such as the Arts, Civics, Economics, Geography, and U.S. History. National, State and TUDA NAEP are administered every two years, in odd-numbered years, in Reading and Mathematics, to measure the change in student performance over time. Science and Writing are usually assessed on a four-year rotating cycle. The frameworks upon which the assessments are based change approximately every decade to reflect changes in curriculum in the nation's schools.
National NAEP tests public/private students in grades 4, 8, and 12.
State NAEP tests public school students in grades 4 and 8. In 2009 and 2013, grade 12 students participated in state NAEP in a limited number of states, including Florida.
TUDA NAEP tests public school students in 27 large urban districts throughout the United States in grades 4 and 8. Duval, Hillsborough, and Miami-Dade counties are Florida's TUDAs.
Samples are representative of the population demographics of the nation/state/jurisdiction/TUDAs.
Each student takes only a portion of the assessment in one subject - results are then assembled to form projected national, state/jurisdiction, and TUDA results. No results are generated for schools, classes, or individual students.
Special Studies are administered according to the assessment schedule set by the National Assessment Governing Board (NAGB). Ongoing projects include the High School Transcript Study, a Technology-Based Assessment Project designed to explore the use of technology, especially the use of the computer as a tool to enhance the quality and efficiency of educational assessments, and the Long-Term Trend NAEP assessments that are designed to provide information on the changes in the basic achievement of students in mathematics and reading from the early 1970s to the present. They are administered nationally and report on student performance at ages 9, 13, and 17.
Sampling
National probability samples of schools and students selected for NAEP are designed to be representative of all schools nationally and of public schools at the state/jurisdiction and large urban district levels. The geographical, racial, ethnic, and socio-economic diversity of the nation's schools and students are considered when the schools are stratified by variables such as extent of urbanization, percentage of minority enrollment, school level results on state achievement tests, and median household income levels in the zip code where the school is located. After the stratification process, systematic sampling is utilized to choose the samples of schools. For national assessments not involving state-by-state samples, regions of the country are also used to determine which schools will participate in NAEP.
The number of schools and students selected varies from cycle to cycle depending on the number of subjects and items assessed. The national sample has sufficient schools and students to yield data for public and private schools and four regions of the country (northeast, southeast, central, and west), as well as by gender, race, degree of urbanization of school location, parent education, participation in the National School Lunch Program (NSLP), and enrollment in exceptional education programs. State samples are selected in close proportion to the state's overall population.
NAEP selects a representative sample of students by first selecting schools using a probability sampling design and then selecting the students within those schools who will participate in a given NAEP assessment. Every eligible school has a known nonzero chance of being selected for the sample and within a selected school, all students in a participating grade have an equal chance of being selected. The probability of students and schools being selected for the sample varies based on factors such as grade, subject, public, charter and nonpublic school status, and school size. Those probabilities are important in producing NAEP results, and NAEP takes them into account in the calculation of results through the process of applying sampling weights. The overall goal of the sampling process is that every eligible student within a state has the same probability of selection. Some of the students who are randomly selected are classified as students with disabilities (SD) or as English language learners (ELL). NAEP's goal is to assess all students in the sample; consequently, some testing accommodations are available in order to facilitate the participation of as many selected students as possible.
To ensure that the results reported for major subgroups of populations are accurate, oversampling (i.e., sampling particular types of schools at a higher rate than they appear in the population) is necessary. For example, NAEP oversamples nonpublic schools and schools with large minority populations, thus ensuring that the sample contains adequate numbers of students attending nonpublic schools and students from particular racial or ethnic subgroups to accurately estimate the performance of those subgroups. If the samples are to be representative of the population as a whole, the data from the students in the oversampled schools must be properly weighted during analysis. Weighting accounts for the disproportionate representation of certain subgroups that occurs because of oversampling. Similarly, weighting also accounts for low sampling rates that can occur for very small schools. Thus, when properly weighted, NAEP data provide results that reflect the representative performances of the entire nation and of the subpopulations of interest.
The number of schools selected for an assessment ranges from 900 to 2,500 and the number of students from 40,000 to 150,000, depending upon the number of subjects to be assessed and the number of assessment booklets developed for each subject. Generally, the requirement is for each booklet to be administered to 2,000 students. Sampling minimizes the assessment time required per student while allowing complete coverage of the subject being assessed. In order to have a valid and reliable assessment of the NAEP content, several hundred assessment questions are needed. Testing a student on the entire collection of assessment questions that make up each NAEP assessment is too time consuming and impractical. Hence, no single student takes the entire assessment. Sampling produces accurate estimates of student achievement while reducing the amount of time and cost to administer and score the assessment. Administering NAEP to all students in a state or the nation would be very costly as there are many constructed-response questions which are expensive to score.
It is possible for a 4th and 8th grade school to be selected for the same assessment year. The sample of schools for grade 4 and grade 8 are independent of each other and, thus, 4th and 8th grade students from the same school could be selected. If a student or school is sampled for participation in NAEP, there is no effect on their future probability of selection. Each year, the sampling process begins anew so each school and student has a chance of being selected for the sample.
In order to report NAEP data, NAEP requires a participation rate of at least 90 percent of all sampled students in each of the sampled public schools. If this percentage is not achieved during the initial NAEP administration, a make-up session is scheduled. NAEP also requires that the proportion of all students excluded from the assessment sample should not exceed 5 percent and that 85 percent of the students selected for the assessment that are classified as either SD or ELL shall be included. NAEP strives for high participation rates because low percentages of participation and response rates greatly reduce the amount of potentially useful information that can be reported.
The results from the assessed students are combined to provide accurate estimates of overall performance of students in the nation and in individual states and other jurisdictions. Results for the nation reflect the performance of students attending public schools, private schools, Bureau of Indian Education schools, and Department of Defense schools. Results for states/jurisdictions and for large urban districts reflect the performance of students in public schools only and are reported along with the results for public school students in the nation. Charter schools are included in the public school sample at the state level. For TUDA districts, beginning in 2009, results for charter schools are included in district results only if they contribute to the district's Adequate Yearly Progress (AYP) report to the U.S. Department of Education.
Each school that participates in the assessment, and each student assessed, represents only a portion of the larger population of interest. The results are weighted to account for the disproportionate representation of some groups in the selected sample, including the oversampling of schools with high concentrations of students from certain racial/ethnic groups and the lower sampling rates of students who attend small schools.
State NAEP
State NAEP allows states to have a uniform measure to chart progress over time and compare student achievement with other states that share similar characteristics (e.g., population, geography, demographics). NAEP introduced state-level assessments in part because different assessments are given in each state, making direct comparisons of state-to-state results invalid. With NAEP, states can compare the knowledge and skills of their students with students in other states and the nation. Beginning in 2003, under NCLB, states were required to participate in NAEP Mathematics and Reading assessments in grades 4 and 8 every two years, in the odd-numbered years, in order to receive federal Title I funding.
Only a sample of schools is chosen to participate in NAEP. Participants are selected through a scientific sampling method (systematic sampling with probability-proportional size). No Florida officials or educators participate in the selection process, and the results of Florida's private schools are not included in state-level results.
TUDA NAEP
In 2001, after discussion among the National Center for Education Statistics (NCES), the National Assessment Governing Board (NAGB), and the Council of the Great City Schools (CGCS), Congress appropriated funds for a district-level NAEP assessment on a trial basis. A primary goal of the Trial Urban District Assessment (TUDA) is to focus attention on urban education.
The assessments administered in TUDA are exactly the same as those given nationally, using identical administration procedures. Like the national and state NAEP, TUDA does not provide individual scores for students or schools. TUDA districts can monitor their progress over time in selected subject areas at grades 4 and 8. In addition to comparing TUDA scores to those of the other TUDAs, TUDA district results are also compared to results from large cities nationwide.
In collaboration with NCES and CGCS, NAGB invites districts that meet certain selection criteria to volunteer to participate in TUDA. Selection criteria relate to
district size,
percentage of African American or Hispanic students, and
percentage of students eligible for the National School Lunch Program (NSLP) or other appropriate indicator of income status.
In 2002, NAGB authorized TUDA assessments in reading and writing in six urban districts. In 2003, TUDA continued with reading and mathematics assessments and, in 2005, with reading, mathematics, and science assessments. Eleven large urban school districts participated in 2005 and 2007. For 2009, 18 districts were invited by NAGB to participate in mathematics, reading, and science TUDA assessments at grades 4 and 8. Twenty-one districts participated in the NAEP 2011 and 2013 assessments in mathematics and reading. In 2015, one of the existing TUDAs was replaced by Duval County (Jacksonville). In 2017, six new TUDA's will be added to the program: Clark County District (Las Vegas), Denver, Fort Worth, Guilford County (Greensboro, NC), Milwaukee, abd Shelby County (Memphis).
The sample of schools drawn for the TUDA assessment is representative of all students in the district. From each sampled school, a random sample of students is selected. The sample of students in the participating TUDA district is an extension of the sample of students that would usually be selected for NAEP as part of state and national samples. These extended samples allow reliable reporting of student groups within these districts. Results for students in the TUDA samples are also included in state and national samples with appropriate weighting.
The number of students assessed varies across the large urban districts. Students with disabilities (SD) and English language learners (ELL) are included in the samples and provided allowable accommodations, as needed, to enable them to access the assessment. Accommodations cannot change the underlying construct of the skill being measured.
Additional Resources
Common Core of Data (CCD) is the Department of Education's primary database on public elementary and secondary education in the United States. The CCD provides an official listing of publilc elementary and secondary schools and school districts in the nation, which can be used to select samples for samples.
Contractors identifies the organizations that work together to develop and implement NAEP and analyze NAEP results.
Frequently Asked Questions provides answers to those questions most frequently asked by students, parents, and other interested individuals.
Glossary of Terms provides definitions of the words most frequently used in NAEP reports and other NAEP-related publications.
Information for Parents discusses the importance of the NAEP program and what participation means for their children.
Information for Students answers questions pertaining to the importance of participating in the assessment, explains why the student was picked for the sample and why students do not need to study for the assessment, discusses why NAEP is important, and provides links to tools to assist with school, college, and beyond.
An Introduction to NAEP summarizes introductory information on the development, administration, scoring, and reporting of NAEP.
Kid's Zone: Learning with NCES contains mathematics and science games, fun facts, and educational information for kids and adults.
NAEP Archive of Reports, Presentations and Newsletters provide historical information and data related to NAEP.
National Assessment Governing Board (NAGB) is an independent, bipartisan group established in 1988 whose members set policy for NAEP.
NAEP Social Media Sites can be accessed through the National Council for Education Statistics (NCES) website.
No Child Left Behind Act of 2001 (NCLB) requires that any state that wishes to receive a Title I grant must include in the state plan it submits to the Secretary of Education an assurance that beginning in the 2002-2003 school year the state will participate in the biennial state-level NAEP in reading and mathematics at grades 4 and 8.
Contact:
The NAEP contact for the state of Florida is Michele Sonnenfeld. She can be contacted by email at
Michele.Sonnenfeld@fldoe.org
or by telephone at 850-245-0513.